The Stampin' Up! Starter Kit is an awesome value ($99 and free shipping for $125 in whatever product I want? Yes, please!), but did you know that there are extra ways to get even more out of being a demonstrator?
Check it out!
New Demonstrator Sign-Up Promotion!
Get even more with your Starter Kit!  From April 15th-May 30th, choose an extra $30 in products to receive FREE with your starter kit.
Use those extra goodies for that project you've been meaning to try, or to put together an awesome open house to kick off your new business!  Whatever you decide to do, it is sure to be fun opening that brown box from Stampin' Up!
Stampin' Start Program
Stampin' Start is a program offered by Stampin' Up! that focuses on helping new demonstrators develop consistency in sales and recruiting. Rewards are attainable for all new demonstrators, not just those who are interested in building a business.  Its a great way to build amazing momentum for your business and get lots of free stamps and rewards above and beyond what you earn as a demonstrator.
Here is the breakdown of what you can earn: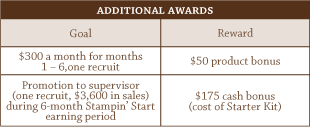 If you have any questions about this, send me a note at jennifer@nwstamper.com and we can chat about it and start planning on how you can earn these rewards for yourself!